Multinational companies can no longer ignore social and political issues. Their actions and policies must stay true to their stated branding, and reflect the values of their customers. With this in mind, how are companies responding to Russia's invasion of Ukraine? We've compiled the internet's most extensive list of multinational companies and their responses to the invasion. While some companies have been praised for their efforts, others have been justifiably accused of not doing enough. This article covers those companies that have left or partially left Russia, and those that have stayed. We'll provide regular updates to keep the information accurate and relevant, so make sure to check back in!
Disclaimer
Our report can only reflect companies for which data is available from independent sources, or that have publicly stated their response to the war in Ukraine. A full investigation of all companies operating in Russia, or not, isn't possible at this time, due to a lack of transparency. Countries with more large companies, or with better transparency or media coverage, are overrepresented in the list of companies that have stayed in Russia. So a country like the USA will have more companies on our list. Many companies from other countries, however, have remained in Russia without garnering any press. We will continue to be diligent in our research and update our list whenever new data comes available.
Companies That Have Announced They're Staying in Russia (as of 1st Aug 2022)
Numerous companies continue to operate in Russia despite coming under pressure. Many of these organizations have deep financial ties to the Russian
market.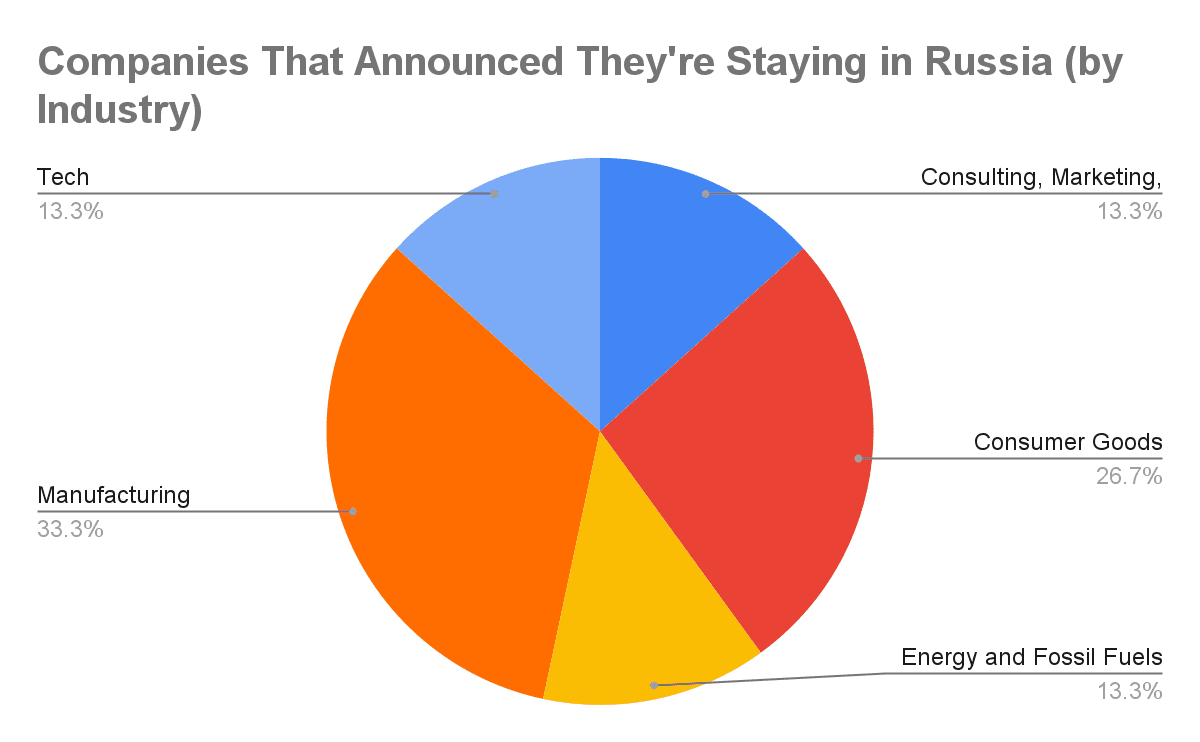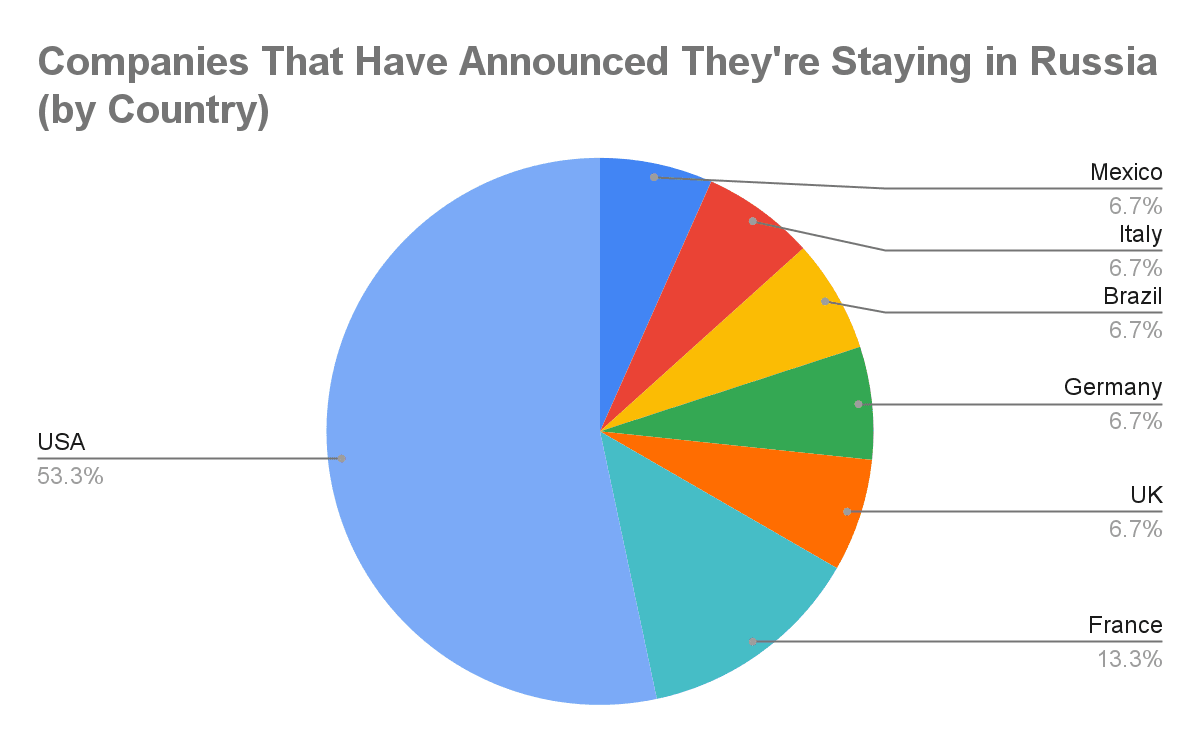 Consulting, Marketing, and Advertising
BBDO Group has a huge presence in Russia with clients such as Rosbank
DDB remains in the Russian market with clients like Russian Agricultural Bank
Consumer Goods
Gruma will continue to operate two plants in Russia
Leroy Merlin is continuing to operate its stores in Russia, where it generates $4billion in revenue
Mondelez is continuing to trade in Russia, where it generates $1billion in revenue
Natura & Co will continue to supply direct sellers and operate a factory in Naro-Fominsk
Energy and Fossil Fuels
Air Liquide continues its operations, which include oxygen supplies for hospitals
Air Products has not announced any changes to its Russia operation, which includes 2 offices and a factory in the Rostov region
Manufacturing
Greif is still operating 9 sites in Russia
IPG Photonics continues selling high-powered lasers Russia
Metro is still trading in Russia
Nalco continues to operate numerous Russian factories
Pirelli is reducing investments and manufacturing, but its plants remain open
Technology
Cloudflare is maintaining its internet services in Russia, a move the company claims will provide access to information for Russian protesters
International Paper may sell a significant stake in a Russian venture, but it is not suspending its Russian operations
Companies That Have Announced They're Partially Staying in Russia (as of 1st Aug 2022)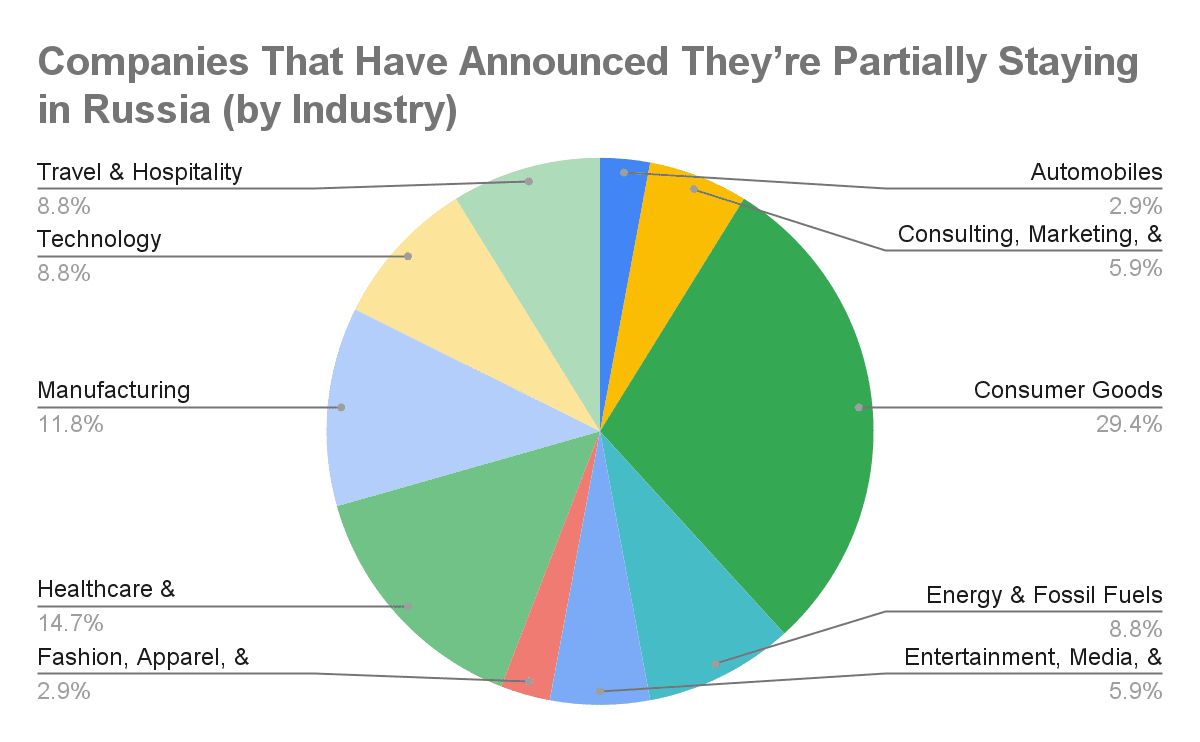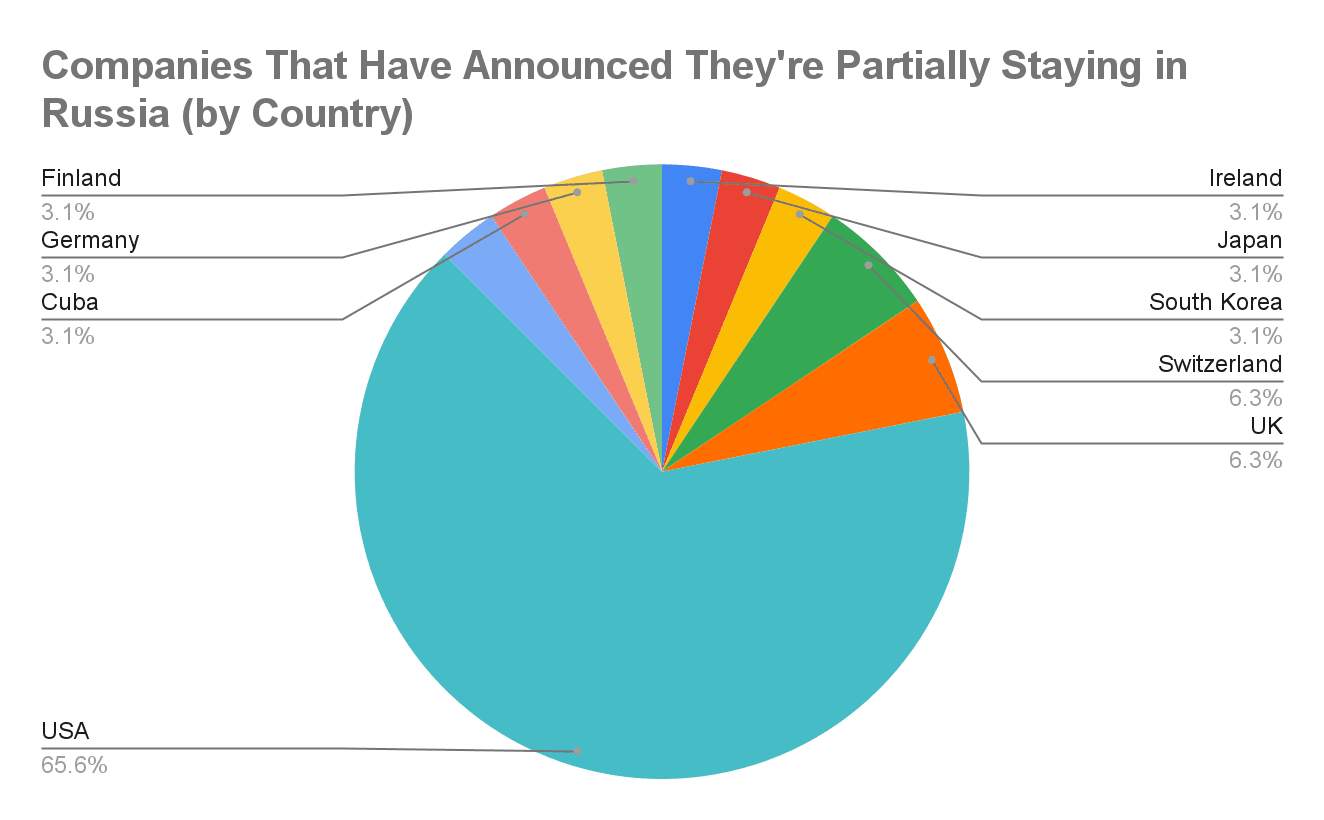 Some companies continue to operate in Russia, but have decreased their presence. Companies in certain industries, such as pharmaceuticals, claim a moral obligation to continue serving their customers with essential goods. Other companies must continue aspects of their Russian business because of legal obligations, such as franchise agreements. Meanwhile, many companies are simply maintaining a foothold in Russia for purely financial reasons.
Johnson & Johnson
Actions Taken: Johnson & Johnson, the US pharmaceutical brand, has temporarily ceased enrollment in its clinical trials throughout Ukraine, Russia, and Belarus. In a March 4th statement, a J&J spokesperson expressed concerns over the war in Ukraine. They also highlighted the company's humanitarian efforts, including a $5 million donation to relief organizations, distributing medical health kits, creating a colleague donation matching program, and a pledge to provide vital humanitarian organizations with access to the company's supply chain. J&J said it was "committed to providing access to our essential medical products in the countries where we operate." This sentiment was echoed by Chief Financial Officer Joe Wolk in a subsequent press conference: "Literally if our products don't get to the patients in need, people will die or have severe consequences."
Nestlé
Actions Taken: Nestlé outlined several measures in response to Russia's invasion in a March 11th press release and a March 23rd update. Nestlé has halted all marketing activities in Russia and suspended Russian investments, exports (excluding essential foods to CIS nations), and imports of its products. However, Nestlé is still importing and selling products it considers essential in Russia, where it says "any profit will be donated to humanitarian relief organizations."Unilever
Unilever
Actions Taken: British consumer goods corporation Unilever highlighted its response to Russia's invasion in a statement on March 8th: "We continue to condemn the war in Ukraine as a brutal and senseless act by the Russian state," wrote a company spokesperson. Unilever also highlighted its €5 million donation of products "to the humanitarian relief effort." On Russia, the company added that it has "suspended all imports and exports of our products into and out of Russia" and "will stop all media and advertising spend." Unilever is halting new investments in Russia, but continues "to supply our everyday essential food and hygiene products made in Russia to people in the country."
Procter & Gamble
Actions Taken: In an open letter to Procter & Gamble employees, the company's president and CEO, Jon Moeller, said: "Our hearts go out to all people who endure the unspeakable human toll of war, and we condemn aggression in any circumstance." Moeller added that P&G's "top priority" is to care for their people in Ukraine and across the regions affected. The company has "proactively suspended operations in Ukraine to help protect our people locally." The company also announced an employee donation matching scheme. P&G says it will continue to sell a reduced portfolio of products in Russia, including "basic health, hygiene, and personal care items." P&G is also cutting new investments and "suspending all media, advertising, and promotional activity" in Russia.
Other Companies That Partially Left Russia
Abbott Labs suspends non-essential business activity
AbbVie temporarily halted operations for its aesthetics products but continue to distribute essential goods
Accor suspended all planned openings and developments in Russia and any loyalty partnerships with Russian companies, although it will continue to run its more than 50 hotels in the country to support its 3,500 Russian employees
ASUS halted deliveries but has not disclosed its sales position publicly
Bacardi Limited paused exports to Russia and froze advertising investments in the market
Baker Hughes has suspended new investments in Russia, while fulfilling current contractual obligations
Baker Tilley subsidiary with 400 employees in Russia
Bayer stopped all spending in Russia and its ally Belarus that is not related to essential products in health and agriculture
Bungie will be working with partners to suspend all Destiny 2 sales and commerce in Russia and Belarus
Cargill is continuing essential operations in Russia
Fortive suspended all of its commercial operations in Russia
Pfizer paused clinical trials in Russia
Danone paused new investments but continues to sell its products in Russia
Kelloggs paused new investments while continuing essential product sales
Konecranes will downsize their Russian business gradually, in accordance with local laws and regulations, and with the safety and wellbeing of their Russian employees prioritized
Oriflame cosmetics suspended new investments, marketing, training, and online sales
PepsiCo suspended operations except for essential products
Philip Morris

suspended investments, product launches, and scaled down Russian manufacturing. In July, the CEO said it would take until the end of 2022 to complete the company's exit from Russia, claiming it was a very complicated process.

White & Case are winding down Russian operations but continue to represent Russian oligarchs
Hilton ceased new investments, but Hilton franchises remain open and retain Hilton branding
Marriott suspended new investments, but its franchise hotels are still operating with Marriott branding
Marks & Spencer paused Russian shipments, but can't exit Russia due to franchise agreements
Novartis has suspended any investments in Russia and stopped all commercial marketing activities
Schlumberger stopped new investments and paused technology deployment in the region
Bridgestone Tire halted manufacturing in Russia
General Mills doesn't have a presence in Russia, but is cutting ads and investment in a joint venture with Nestlé
LG Electronics paused shipments to Russia; other actions are undisclosed
Linde is closing business with sanctioned entities but must fulfill other existing contracts in Russia
Mettler Toledo suspended shipments to Russia
Authentic Brands Group, owner of Reebok, has suspended its business operations and stores in Russia
Reckitt Benckiser Group froze capital investments in Russia
Focus Brands LLC halted Russian investments but can't pull out of the market because of independently owned franchises
Whirlpool

is selling its Russian operation to a local business for roughly $233 million, via deferred payment over the next 10 years.

Subway similarly cannot exit the Russian market because of its franchises
Tikkurila

is exploring options to cease almost all operations in Russia, but maintain enough business to continue paying local employees in the country.

Unicredit

is considering exiting Russia in a way that allows it to return after the war in Ukraine ends.
Companies That Have Announced They're Leaving Russia (as of 1st Aug 2022)
Many companies are exiting the Russian market because of their — and their customers' — moral objection to Russia's invasion of Ukraine. Numerous companies have also cited logistical and operational concerns as a motivation.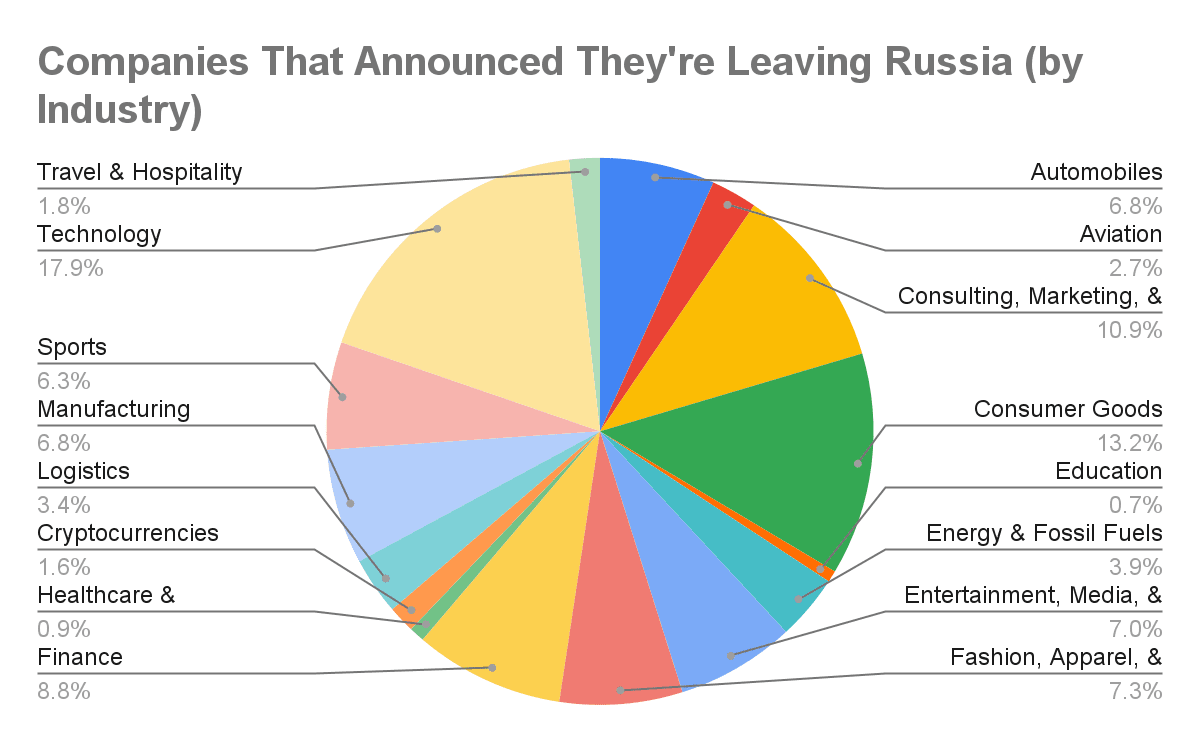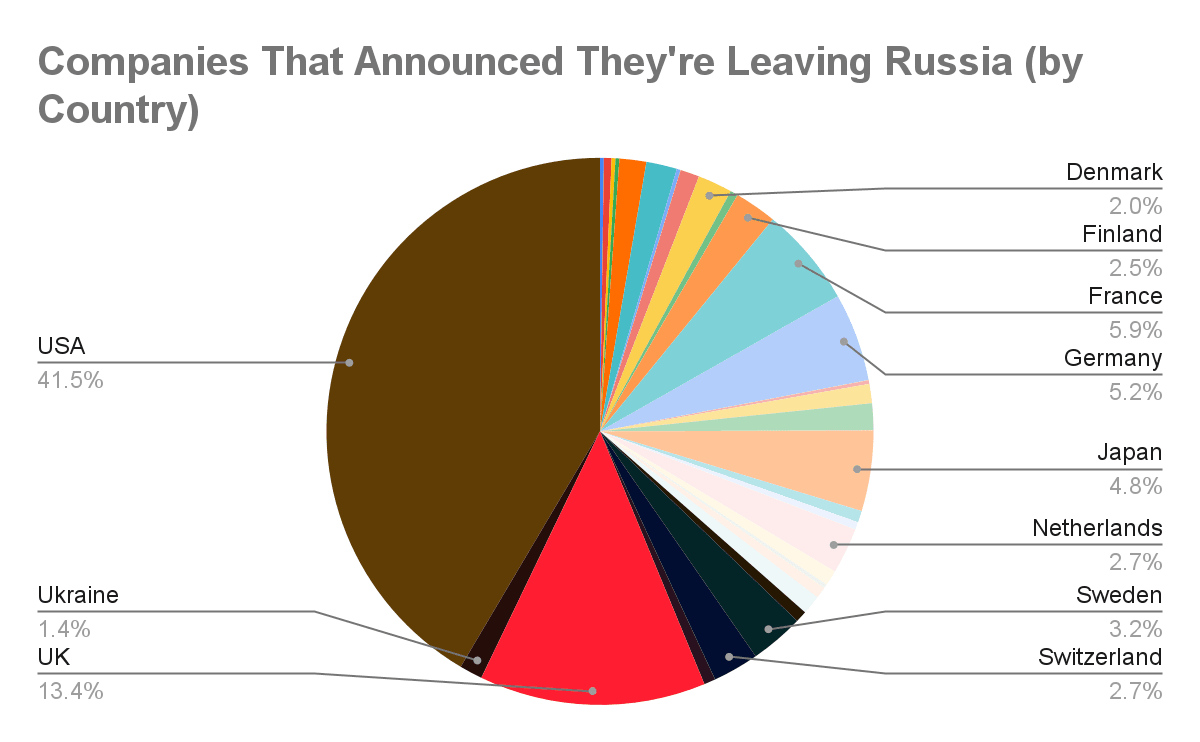 Automobiles
BMW
Actions Taken: In a statement to the Wall Street Journal, BMW announced it would cease production in Russia and halt all exports to the country "until further notice." The company had recently invested over $300 million in a factory in Russia, where a big part of its production process occurs.
Bosch
The multinational German engineering company, Bosch, said it was suspending Russian business operations in a March 18th statement. The company's move comes after Ukrainians claimed they found Bosch components in Russian military vehicles. Bosch currently generates around $1.3 billion in revenue from the Russian market.
Ferrari
Actions Taken: On March 8th, Ferrari announced it would suspend the production of vehicles for the Russian market until further notice. "Ferrari stands alongside everyone in Ukraine affected by this ongoing humanitarian crisis," stated CEO Benedetto Vigna. Ferrari also donated €1 million to support Ukrainians in need.
Ford Motor Company
Actions Taken: On March 1st, Ford released a statement announcing it would suspend operations in Russia and donate money to organizations supporting Ukrainian refugees. Ford's business operations in Russia are mostly limited to a joint venture with commercial van manufacturer PJSC Sollers. Ford will also make a $100,000 donation to humanitarian relief.
Harley-Davidson
Actions Taken: Harley Davidson announced it was suspending business operations in Russia, along with all shipments of motorcycles to the nation, in a statement released on March 1st. The company's press release added: "Our thoughts continue for the safety of the people of Ukraine and those impacted by the crisis."
Mercedes-Benz
Actions Taken: On March 2nd, Mercedes-Benz ceased production in Russia and deferred exports of passenger cars and vans following the nation's invasion of Ukraine. The German car manufacturer also announced it would continue to work closely with Ukrainian suppliers, as per MarketWatch. According to Autocar, the company is also donating €1 million to the German Red Cross.
Stellantis
Actions Taken: Stellantis, the multinational automotive manufacturer that owns brands like Peugeot and Citroën, announced on March 10th that it was suspending all shipments to and from Russia. According to Reuters, the company co-owns a factory with Mitsubishi in Kaluga, Russia. Stellantis is also donating €1 million in aid of Ukrainian refugees.
Toyota
Actions Taken: Toyota ceased manufacturing at its St. Petersburg site on March 4th, where the company produces RAV4 and Camry models, due to "supply-chain disruptions." The company also closed its retail locations in both Ukraine and Russia, stating that its priority is "[ensuring] the safety of all our team members, retailer staff, and supply chain partners." In a statement, Toyota said it was "watching the ongoing developments in Ukraine with great concern for the safety of people of Ukraine" and later added that it was pledging €0.6 million to humanitarian causes.
Volkswagen
Actions Taken: Volkswagen expressed its "dismay and shock" at the events unfolding in Ukraine, in a press release on March 3rd. The company highlighted its hopes for a "return to diplomacy," and stated its thoughts on the best resolution: "We are convinced that a sustainable solution to the conflict can only be found on the basis of international law." The German manufacturer supported this sentiment by announcing that it would cease production of vehicles in Russia "until further notice," while exports to Russia have also stopped. Like some other German automotive companies, Volkswagen is donating €1 million to Ukraine relief.
Volvo Cars
Actions Taken: On February 28th, Swedish car manufacturer Volvo Cars said it was stopping car shipments to Russia because of "potential risks associated with trading material with Russia, including the sanctions imposed by the EU and US." Volvo has taken various other actions, including donations of over $500,000 (USD) to Save the Children and UNICEF.
Other Automotive Companies Taking Action
Aston Martin temporarily stopped shipping to Russia
Bentley suspended all shipments to Russia
Cummins exited its Russian operations
Daimler suspended Russian business
GM halted shipments to Russia
Honda paused shipments to Russia
Hyundai stopped manufacturing in Russia
Jaguar suspended Russian shipments
Magna closed its Russian plants
Mazda halted Russian shipments
Mitsubishi stopped production at its Kaluga plant in Russia, and suspended vehicle exports and parts-supply activities (citing logistical difficulties)
Michelin stopped supplying its Russian partner and announced it would transfer all Russsian operations to local management by the end of 2022.
Nissan suspended shipments to Russia
Nokian Tires reduced production in Russia
Renault has sold Renault Russia to the Russian government, and sold its shares in carmaker Avtovaz to a government-backed science institute; as Forbes reports, this is the first Western company to have major assets nationalized by the Russian government since the start of hostilities in Ukraine
Scania halted sales in Russia
Subaru stopped Russian shipments
Skoda halted production in Russia
Bombardier suspended Russian business
Canadian Tires closed its Russia Stores
Aviation
American Airlines
Actions Taken: Many airlines have cut ties with Russia's flagship carrier Aeroflot, including Delta Air Lines and American Airlines. The latter announced on March 1st it was halting "interline agreements" with Aeroflot and S7 Airlines – these arrangements allow airlines to ticket their services to each other's customers.
Airbus
Actions Taken: Aerospace manufacturer Airbus is also ceasing support for Russian carriers, including Aeroflot. On March 2nd, Airbus announced it had "suspended support services to Russian airlines, as well as the supply of spare parts to the country." The company added: "Services provided by the Airbus Engineering Centre in Russia (ECAR) have also been suspended pending further review." These measures have been implemented alongside continued humanitarian support from the Airbus Foundation.
Boeing
Actions Taken: Aviation manufacturer Boeing issued a statement in response to the Ukraine-Russia conflict on March 1st. The company announced that it would suspend operations at major sites in both countries, including the Moscow Design Center and two more locations in Kyiv. Boeing is also suspending support for Russian airlines in the form of parts, maintenance, and technical assistance. Sanctions are difficult for Boeing, given the company relies on a crucial supply of Russian titanium to manufacture its planes. In a statement, Boeing maintained that it's focused on the "safety of our teammates in the region." The company also committed $2 million to humanitarian relief in Ukraine.
Delta Air Lines
Actions Taken: Delta Air Lines announced it was pulling out of "codeshare services" that it runs in partnership with Aeroflot. Codesharing refers to agreements where carriers can market and issue tickets for each other's flights. On February 25th, Delta stated: "We have removed our code from Aeroflot-operated services beyond Moscow's Sheremetyevo Airport and removed Aeroflot's code from Delta-operated services from Los Angeles and New York-JFK." On March 14th, Delta highlighted its work in providing over $1 million of support to the American Red Cross, the Global Red Cross Movement, and the UN High Commissioner for Refugees.
AerCap
Actions Taken: AerCap Holdings, one of the largest aircraft leasing companies in the world, announced its compliance with Western sanctions on Russia in a statement on February 28th. The company has halted aircraft leasing with Russian carriers. According to the company, based on net book value, around 5% of AerCap's 2000-strong fleet was leased to Russian carriers in late 2021.
Alaska Airlines
Actions Taken: Alaska Airlines is another US aviation company responding to Russia's invasion. In a March 1st statement, the carrier said it was "deeply concerned by the humanitarian crisis taking place in Ukraine." Alaska Airlines continued to announce it was ending a partnership with Russia's S7 Airlines, and Alaska customers would no longer earn air miles and redemptions on S7 flights. The statement added that Alaska Airlines' interline partnerships with Areoloft and S7 were also suspended.
Korean Airlines
Actions Taken: On March 15th, Korean Airlines said it was suspending all routes to Russia until at least late April amid concerns for passenger and crew safety. South Korea's flagship airline currently operates flights to the Russian cities of Moscow and Vladivostok. The company added that some flights operating between Incheon and Europe and the US will actively avoid Russian and Ukrainian airspace, which could take up to 3 hours longer.
United Airlines
Actions Taken: United Airlines outlined its impressive response to the Russia-Ukraine war in a March 7th press release. The company has adopted similar measures to other carriers, including a suspension of flights in Russian airspace, interline agreements, and Russian credit card payments on the United app and united.com. United's humanitarian response to the invasion is extensive. Customers can donate money or air miles to United's Ukrainian relief partners via united.com/UkraineSupport. These organizations include Airlink, Americares, American Red Cross, and World Central Kitchen. United Airlines' President Brett Hart said: "The human tragedy we are witnessing in Ukraine is horrifying and has shocked us all so we're doing our part to quickly help get aid to the people who desperately need relief."
Lufthansa
German carrier Lufthansa announced that it would avoid Russian airspace and cancel all Lufthansa transits to and from the country until at least late May 2022.
Other Aviation Companies Taking Action
Embraer will no longer support Russian operators that are sanctioned
Dassault Aviation suspended Falcon deliveries to Russia
Sabre suspended its partnership with Aeroflot
Consulting, Marketing, & Advertising
Accenture
Actions Taken: On March 3rd, an Accenture statement announced that the company was "discontinuing [its] business in Russia." The Irish professional services company continued to thank its Russian colleagues "for their dedication and service to Accenture" and made assurances that these people would receive support. Accenture also pledged to help its Ukrainian colleagues by "providing telehealth for those in Ukraine, and helping resettle family members who leave Ukraine." In another strong move, the company promised to donate $5 million to nonprofit relief organizations working in Ukraine, while Accenture will match 100% of donations from its staff and employees.
Bain
Actions Taken: Bain & Company already took steps to distance itself from the Kremlin in 2021 when the company announced it would "not work for the Russian government at any level – central, state, or departmental – and also not to work with companies in specific industries, including military and intelligence." Fast-forward to 2022, and the management consultancy firm now says it is "re-evaluating [its] work in Russia" to ensure that it meets the company's standards, implying that state-owned Russian clients are currently under review.
Boston Consulting Group
Actions Taken: The Boston Consulting Group opened a March 4th public address by condemning the "horrifying" war in Ukraine. The American management consultancy firm said it was suspending work with Russian clients and winding down work "where possible," though BCG did reaffirm it would "honor [its current] contractual obligations." BCG said its Moscow office is staying open, and measures are being reviewed on a "continuous basis." In a closing statement, the company offered thanks to its employees for their humanitarian efforts and drew attention to its "firmwide matching program for donations to charities providing much-needed support for refugees."
McKinsey & Company
Actions Taken: McKinsey & Company announced on May 13, 2022, that it was fully exiting the Russian market. Its assets have been transferred to an "independent entity" with no financial or operational ties to the company. This followed the company's March 3, 2022, announcement that it had stopped taking new clients in Russia, had stopped working with state-owned entities, and would suspend service after its current engagements finished. In the company's earlier statement, it stressed that its primary focus was on the safety of its Ukrainian colleagues and their families. In other reports, McKinsey outlined its humanitarian efforts, including a $2 million charitable donation and an employee donation matching scheme.
Dentons
Actions Taken: On March 14th, Dentons claimed it was separating from its Moscow and St. Petersburg offices. The multinational law firm said these locations would now operate independently so that the company could "continue meeting [its] legal and ethical obligations." Denton's statement added that its Russian colleagues "bear no responsibility for this crisis" and that the company hopes it can "come back together when it is lawfully and practically possible to do so."
DLA Piper
Actions Taken: In a March 14th press release, DLA Piper highlighted its decision "not to act for clients connected to the Russian state." A spokesperson added that the company has "concluded that maintaining a presence in Russia is not aligned with our values and therefore no longer viable."
Eversheds Sutherland
Actions Taken: Eversheds Sutherland is another multinational law firm taking measures in response to the Russia-Ukraine war. The company is removing its business from Russia, as per a March 11th statement. The company also made a $270,000 donation to the International Rescue Committee.
Fieldfisher
Actions Taken: A Fieldfisher spokesperson said the company was "appalled by, and condemn[s] the invasion of Ukraine," especially considering Fieldfisher's links to the Commonwealth of Independent States. On March 8th, the European law firm said it would comply with sanctions and legal requirements, and would decline new instructions for state-backed Russian entities. The company added that it would cease any "instructions that facilitate the Russian military action in Ukraine." Fieldfisher claimed it has already ended relations with several clients and highlighted the firm's commitment to humanitarian efforts in Ukraine.
Other Consulting, Marketing, & Advertising Companies Taking Action
Ansys suspended all sales transactions and business development activities in Russia and Belarus
BIG (Bjarke Ingels Group) announced it is not engaged in any projects in Russia or for the Russian government and supports Ukrainian sovereignty and territorial integrity
David Chipperfield Architects suspended all work in Russia
FreshFields Bruckhaus Deringer suspended certain Russian partnerships
Coupa halted its operation in Russia
Grant Thornton closed its business in Russia
Herbert Smith Freehills shut its Russian offices
Herzog & de Meuron suspended work on Russian projects
Hines ceased new investments in Russia
Hogan Lovells exited its Russian operations
Knight Frank suspended new investments
KPMG separated from Russian and Belarusian firms
Linklaters halted Russian business and closed its Moscow office
Marsh Mclennan transferred ownership of its Russian operations to independent management
McAslan + Partners has stopped work on projects in Russia
Norton Rose Fulbright exited Russia and closed its Moscow office
PwC removed its Russian branch from the PwC network
Sidley Austin stopped serving Kremlin entities
Skadden relocated its Russian employees
WeWork outlined plans to exit its Russian operations
Winston & Strawn closed its Moscow office
WPP PLC suspended its Russian business
Squire Patton Boggs shut its Moscow office
Vanguard suspended purchases of securities in Russia and is exiting Russian index funds
Debevoise & Plimpton exited the Russian market
Chipperfield suspended its Russian business
Dechert halted its Russian operations
Allen and Overy is closing its Russian office
Baker Botts suspended Russian business
BakerMckenzie is transferring ownership of its Russian operations to independent management
CBRE halted fresh investments in Russia
Clifford Chance closed their Moscow offices
Akin Gump suspended Russian business
Cleary Gottlieb suspended its Russian operations
Latham & Watkins temporarily stopped its operations in Russia
Morgan Lewis halted Russian business
Interpublic Group suspended operations in Russia
UnStudio suspended all projects in Russia
Zaha Hadid Architects suspended work in Russia
Publicis Groupe (Saatchi & Saatchi, Leo Burnett, and Zenith) transferred ownership of Russian operations to a local company
Consumer Goods
Coca-Cola
Actions Taken: Coca-Cola is deferring business operations in Russia following the invasion of Ukraine, according to a March 8th press release. Russia accounts for around 2% of Coca-Cola's operating revenue and income, and the company has a significant stake in a Russian bottling and distribution business. A spokesperson for Coca-Cola said: "Our hearts are with the people who are enduring unconscionable effects from these tragic events in Ukraine." The company also donated over $1 million to humanitarian efforts. Coca-Cola doesn't have its own production facilities in Russia. Consequently, Coca-Cola's marketing activities in Russia will stop, although production may continue under the local company "Coca Cola HBC."
eBay
Actions Taken: According to several US news organizations, eBay, the second-hand e-commerce platform, suspended any transactions to Russian-based accounts on March 12th. An eBay statement noted that the company took the move "as a result of service interruptions by payment vendors and major shipping carriers," and went on to mention that "Ukraine addresses may experience delays." "We will continue to evaluate and make necessary changes to our policies and service availability as this situation evolves and hope for a rapid, lasting, and diplomatic solution to this crisis."
Estée Lauder
Actions Taken: On March 7th, Estée Lauder claimed it was deferring business operations in Russia. The cosmetics company suspended its Russian investments and initiatives at the start of March. This latest move will involve the closure of Estée Lauder's Russian stores, brand sites, the suspension of other cosmetic product shipments, and a $1 million donation supporting humanitarian relief.
IKEA
Actions Taken: Swedish homeware brand IKEA highlighted efforts to suspend its shipments to and from Russia and Belarus in a March 3rd statement. The company also paused all manufacturing and retail sites located in Russia, but stated that its shopping center "Mega" would remain open "to ensure that the many people in Russia have access to their daily needs and essentials." IKEA has also committed €20 million to the UN High Commissioner for Refugees in response to the humanitarian crisis in Ukraine. In June, the company announced it will reduce its Russian workforce and begin finding a new owner for its factories in the country. Import and export of IKEA products would also remain stopped, and two office is Moscow and Minsk will be closed permanently. 
McDonald's
Actions Taken: Following its March 8, 2022, announcement that it was pausing operations in Russia, Mcdonald's has announced that it is permanently exiting the Russian market. Restaurants in Russia and Ukraine made up 9% of the company's total revenue in 2021. However, in a press release dated May 16, 2022, McDonald's stated that continued ownership of businesses in Russia is neither economically tenable nor consistent with the company's values. They cited the unpredictable operating environment and humanitarian crisis in Ukraine as primary concerns. McDonald's is working to sell its restaurants in Russia to a local buyer, and is working to ensure the wellbeing of its employees, including that they are paid during the transition and that their employment continues after.
Starbucks
Actions Taken: On March 8th, Starbucks CEO Kevin Johnson announced that "today, we have decided to suspend all business activity in Russia." "Our licensed partner has agreed to immediately pause store operations and will provide support to the nearly 2,000 [employees] in Russia who depend on Starbucks for their livelihood," Johnson added. The Starbucks CEO also mentioned that the company would no longer export products to Russia, and that Starbucks condemns "the horrific attacks on Ukraine by Russia." The company also vowed to donate profits from its Russian business to support humanitarian efforts in Ukraine.
Papa John's
Actions Taken: American pizza chain Papa John's has announced that it's pausing business operations in Russia, according to a March 9th company statement. Papa John's franchises will still exist in Russia, but the company will no longer provide support to the Russian market with advertising campaigns and operational assistance. "We hope for a peaceful resolution to the crisis in Ukraine, which today is hurting millions of innocent people, who are losing their homes, communities, and people they love." Interestingly, one major Papa John's franchisee is keeping 190 of his Russian restaurants open. Christopher Wynne believes Papa John's is "worried about corporate and political winds" and says he is only interested in protecting his employees and "keeping the lines of cultural exchange with the Russian people open."
British American Tobacco
Actions Taken: British American Tobacco stated that it has initiated the rapid transfer of its Russian operations "in full compliance with international and local laws." The brand said it would continue to pay and protect some 2,500 Russian employees in a March 11th press release. The BAT group's spokesperson, P. McCrory, clarified that the company would no longer have a presence in Russia. Ukrainian and Russian sales made up 3% of the group's revenue in 2021. In June 2022, the company stated that its exit from Russia was ongoing, and it was transferring its business in the country to a local partner. 
Other Consumer Goods Companies Taking Action
Amway paused product imports and operations in Russia
Budvar froze Russian beer deliveries
Burger King stopped supporting Russian franchises
Brown-Forman paused Russian business
Bunge suspended its export business in Russia
Canada Goose paused its product sales to Russia
Carlsberg halted Russian exports and various other operations, and is currently looking to sell its assets in Russia
Colgate-Palmolive halted sales, barring essential hygiene products
Coty suspended new investments and marketing activities in Russia
Diageo halted Russian and Ukrainian exports
Dr. Oetker has withdrawn from Russia and sold its plant
Electrolux

announced it would sell its Russian business to local management

Essity has initiated actions to exit the Russian market, including the sale of its assets in Russia
Fazer is exiting the Russian market
Grupo Bimbo suspended sales and new investments
Heineken stopped the production and sale of beer in Russia
Henkel froze new investments, halted sponsorships and advertising in Russian state-owned media, and launched a financial aid program
Hesburger has begun the process of closing its restaurants in Russia
Herbalife paused Russian business
Imperial Brands halted its Russian operations
J Sainsbury removed 100% Russian-sourced products from its stores
Japan Tobacco halted new investments, advertising, and product launches in Russia
JYSK suspended its Russian operations
Kerry Group suspended operations in Russia
Kimberly-Clark paused new Russian investments
Kinross Gold froze its Russian operations
Kraft Heinz suspended new investments and Russian exports/imports
Lavazza suspended all activities in Russia
LEGO

initally paused Russian shipments and in July, announced it was closing its business in Russia indefinitely and laying off all its Russia-based employees

LEGO paused Russian shipments
Little Caesars, whose locations are franchise-owned, is suspending all operations in Russia
L'oréal temporarily stopped Russian business
Louis Dreyfus suspended Russian operations
Mars halted new investments and marketing campaigns
McCormick & Company suspended Russian business
Morrisons Supermarket removed Russian vodka from its stores
Mothercare paused Russian business and halted shipments
Auchan has a continued presence in Russia, where it generates $3.5 billion in revenue
ADM reduced Russian commercial activities and committed to humanitarian support
Asda removed Russian products from its stores
Paulig exited the Russian market
PVH suspended retail sites and commercial activities in Russia and Belarus
Samsonite International paused Russian business
Scandinavian Tobacco temporarily stopped trading with Russia
Sodexo has stopped all activity in Russia
Sylvamo suspended Russian business
Valio exited its Russian operations
Waitrose cut Russian products from its stores
Yum! Brands

initially paused new investments in Russi and suspended numerous KFC and Pizza Hut outlets, then announced it intends to fully exit from Russia

Yum! Brands paused new investments in Russia, and suspended numerous KFC and Pizza Hut outlets
iHerb is not accepting new orders in Russia and only fulfilling those which have been processed
Etsy supported Ukrainian sellers and deactivated Russian-based sellers because payment partners have left the region
Jim Beam

announced it would sell its joint venture in Russia to the local management team
Education
TOEFL and IELTS
Actions Taken: English language testing organizations Test of English as a Foreign Language (TOEFL) and International English Language Testing System (IELTS) each suspended exams in Russia following the nation's invasion of Ukraine.
Coursera
Actions Taken: Coursera halted eLearning courses, specializations, and degrees from Russian universities and industry partners on its platform. The US-based eLearning provider also cut ties with Russian institutions across its other services, including Coursera for Business, Coursera for Government, and Coursera for Campus. On March 4th, Coursera's statement said it was also "suspending the ability for learners in Russia to enroll in paid course experiences, and we will not be collecting payment from any learners or institutions in Russia."
Some Russian-Issued Diplomas No Longer Recognized
Actions Taken: In a joint statement, several education institutions said they had "collectively decided to suspend all membership and accreditation activities with Russian institutions until further notice." These institutions include the AMBA (Association of MBA Programs), the EFMD (European Foundation for Management Development), and the AACSB (The Association for the Development of Business Schools).
Energy & Fossil Fuels
BP plc
Actions Taken: British Petroleum, which is self-proclaimed as Russia's largest foreign investor, has a long and storied connection with Russian oil and gas. On February 27th, BP confirmed it would ditch its nearly 20% ownership stake in Rosneft – a Russian state-owned fossil fuel corporation. Reuters reports that BP's decision could cause financial losses of up to $25 billion. Meanwhile, the company has contributed over $20 million to humanitarian relief efforts.
Equinor
Actions Taken: On February 28th, the Norwegian energy company Equinor announced it was withdrawing from $1.2 billion worth of capital investment in Russia. Equinor's president and CEO, Anders Opedal, said: "We are all deeply troubled by the invasion of Ukraine, which represents a terrible setback for the world, and we are thinking of all those who are suffering because of the military action."
Exxon
Actions Taken: ExxonMobil is pulling out of Russian investments in response to Russian aggression in Ukraine, according to a March 1st statement. The American oil and gas corporation is exiting Sakhalin-1, an oil and gas venture that involves several Russian companies, and Exxon is also stopping any new investments in Russia. The company's statement added: "ExxonMobil supports the people of Ukraine as they seek to defend their freedom and determine their own future as a nation. We deplore Russia's military action that violates the territorial integrity of Ukraine and endangers its people." ExxonMobil has donated $2.5 million to humanitarian relief organizations.
Shell
Actions Taken: On February 28th, Shell announced that it was abandoning any involvement with the Russian state-owned energy corporation Gazprom and its Nord Stream 2 pipeline, which was designed to move natural gas from Russia to Germany. Consequently, Shell could lose around $3 billion in assets. In an update on March 8th, Shell highlighted that it would no longer purchase Russian oil and gas with the company's Russian sites and business operations closing down. The company will donate any profits from its current supply of Russian oil to humanitarian causes in Ukraine.
Eni
Actions Taken: The Italian oil and gas company Eni SPA E announced it was ending a decades-long joint investment with Gazprom in a press release on March 1st. Eni is selling its 50% stake in the Blue Stream pipeline, which runs from Russia to Turkey. The company also mentioned that it has been stepping down its involvement with Rosneft since Russia annexed Crimea in 2014.
Other Energy & Fossil Fuel Companies Taking Action
Halliburton is suspending its Russian operations
Monroe Energy suspended partnership with Russia
Neste suspended purchase of Russian oil
Norsk Hydro froze Russian investments
OMV divested from Russian projects
Par Pacific suspended partnership with Russia
Preem AB suspended purchase of Russian oil
Total Energies suspended new investment with Russia
Uniper SE suspended new Russian purchases and divested UniPro
Valero Energy suspended purchases of Russian oil
Viva Energy suspended purchases of Russian oil
Wintershall Dea exited Russian investments
Entertainment, Media, & Gaming
Hearst
On March 10th, Hearst terminated its partnerships with Russian publishers Shkulev Media and Fashion Press. As a result, several Hearst publications will no longer be available in Russia, including Elle, Cosmopolitan, Men's Health, Esquire, Harper's Bazaar, and Good Housekeeping. The decision comes after Hearst donated $228,000 to relief organizations, including the International Committee of the Red Cross, the International Rescue Committee, and Save the Children.
DirecTV
Actions Taken: American video programming distributor DirecTV released a statement on March 1st regarding the Russian state-backed media channel RT. A company spokesperson said: "In line with our previous agreement with RT America, we are accelerating this year's contract expiration timeline and will no longer offer their programming effective immediately."
Disney
Actions Taken: Following an earlier announcement that new Disney movies would no longer be available in Russia, a company statement on March 10th highlighted the full extent of Disney's measures: "Given the unrelenting assault on Ukraine and the escalating humanitarian crisis, we are taking steps to pause all other businesses in Russia. This includes content and product licensing, Disney Cruise Line activities, National Geographic magazine and tours, local content productions, and linear channels." The US entertainment company also mentioned its work with "NGO partners to provide urgent aid and other much-needed assistance to refugees."
Discovery
The US television conglomerate Discovery has suspended its business operations in Russia. The company took 15 channels off-air on March 9th, which it operates in a partnership with Russia's National Media Group. According to Variety, Discovery's decision is likely fueled by concerns over the Kremlin's censorship of media. Discovery owns Poland's popular TVN24 channel and has a strong presence throughout Europe.
Radio Free Europe
Actions Taken: Radio Free Europe/Radio Liberty (RFE/RL), a US-funded news company, has closed its Russian operations following pressure from Russian authorities. In a March 6th statement, the organization's CEO Jamie Fly claimed the decision was forced "by the Putin regime's assault on the truth." Local tax authorities enacted bankruptcy proceedings against Radio Free Europe/Radio Liberty following the company's refusal to label itself as "foreign agents" when broadcasting to the Russian public. The decision to exit Russia is also influenced by the Kremlin's brutal sentencing of journalists that deviate from its narrative. Jamie Fly maintained that the RFE/RL "will use every platform possible to reach [the Russian people] at a time when they need our journalism more than ever."
Cannes Film Festival
Cannes, the world's largest film festival, released a statement on March 1st condemning the war in Ukraine and banning Russian delegates from attending this year's event: "It has been decided, unless the war of aggression ceases under conditions that will satisfy the Ukrainian people, not to welcome official delegations from Russia nor to accept the presence of anybody linked to the Russian government [into the festival]," said a Cannes spokesperson.
EA Sports
Video game developer EA Sports has removed "the Russian national team and all Russian clubs" from its popular Fifa 22 game following Russia's invasion of Ukraine. In a statement on March 2nd, a company spokesperson said: "EA Sports stands in solidarity with the Ukrainian people and, like so many voices across the world of football, calls for peace and an end to the invasion of Ukraine." EA sports also removed Russian and Belarusian teams from NHL22 and said it was "evaluating related changes to other areas of our games."
Ubisoft
French-based game developer Ubisoft has paused sales of its video games in Russia, according to a Bloomberg report on March 7th. Speaking to Reuters, a company spokesperson later confirmed that "digital and physical sales are suspended in Russia." Ubisoft also runs an office in Moscow and has employees in Ukraine. Ubisoft's announcement comes days after the company committed funds to the Ukrainian Red Cross, Save the Children, and the Bank of Ukraine's solidarity fund.
Other Entertainment, Media, & Gaming Companies Taking Action
Amedia transferred control over its Russian printing houses to Dmitry Muratov, chief editor of independent newspaper Novaya Gazeta
Universal suspended Russian operations
bet365 has ceased all operations on Russian territory and asked its partners to stop using any of its brand identification and marketing elements for promotion in Russia
Deezer suspended business in Russia
Books by Stephen King are no longer being published in Russia
E-books of Harry Potter have been removed from sale in Russia
Activision Blizzard paused Russian sales
Eurovision banned Russia from its competition
FavBet has, according to reports, withheld funds from Russian players and transferred them to the Ukrainian army
Live Nation Entertainment suspended its Russian operation
Mattel suspended Russian shipments
Netflix paused its operation in Russia
Nintendo suspended Russian sales
Omnicom Media Group is divesting from its positions in Russia
Paramount froze content releases in Russia
Parimatch has completely left Russian markets, and denied the use of its branding to Russian agents
Roku dropped Kremlin-linked propaganda and ads from its platform
Rovio has removed its games on app marketplaces in Russia and Belarus
Sony Pictures announced the suspension of all activities in Russia
Tele2 AB refused to renew the license for the use of its brand by the Russian Tele-Tittle operator
Take Two Interactive halted Russian sales
Warner Media suspended new content in Russia
Wargaming is working to leave both Russia and Belarus, while remaining legally compliant and ensuring the safety and support of its employees
Megogo cut Russian films from its platform
Fashion, Apparel, & Jewelry
H&M
Actions Taken: The multinational fast-fashion outlet H&M said it was "deeply concerned about the tragic developments in Ukraine" while showing solidarity with the Ukrainian people in a statement on March 2nd. The brand has taken steps to "temporarily pause all sales in Russia" and has closed its Ukrainian locations "due to the safety of customers and colleagues." H&M Group also highlighted its charitable donations of clothes and necessities, and its financial contributions to organizations such as Save the Children and UNHCR. In July 2022, the company announced that it would begin " initiate a process of winding down the business" in Russia. This would include temporarily reopening stores to sell any remaining inventory in Russia.
Swatch
Actions Taken: Swatch Group, the Swiss watchmaker, discussed the pause of its business operations at retail sites throughout Russia in a statement on March 9th. "Please be informed that Swatch Group has temporarily suspended the operations of its stores in Russia due to the increasing complexity and difficulty of the situation," wrote a company representative in an email to Anadolu Agency. One week earlier, Swatch announced it was stopping exports of its products to Russia.
Uniqlo
Actions Taken: Uniqlo said "it has become clear to us that we can no longer proceed [in Russia]" in a March 10th statement. The Japanese fashion brand temporarily closed 50 Russian stores after back-pedaling on a heavily-criticized decision to continue Russian business operations. Uniqlo cited "operational challenges and the worsening of the conflict situation" as reasons for the decision. Uniqlo's parent company, Fast Retailing, also pledged $10 million and 200,000 clothing items to UNHCR in a statement on March 4th.
Richemont
Actions Taken: Richemont, responsible for brands like Cartier and YOOX Net-a-Porter Group, announced it had suspended business operations in Russia. In a March 4th statement, the Swiss-based luxury goods company added that Ukrainian operations also ceased on February 24th, and that it would be making "a significant donation" to the Doctors Without Borders charity.
Other Fashion, Apparel, & Jewelry Companies Taking Action
ABG Authentic Brand Group (owner of brands including Juicy Couture, Aéropostale, Eddie Bauer, Nine West, Forever 21, and Reebok) has suspended all branded stores and e-commerce operations in Russia
ACNE STUDIOS has put all activities in Russia on hold
Farfetch suspended Russian shipments
Levi Strauss paused Russian sales
Rolex halted shipments to Russia
Asos temporarily stopped Russian shipments
BooHoo Group paused Russian shipments
Burberry suspended shipments to Russia
Chanel suspended its Russian operation
Crocs halted Russian business and imports
GANNI has suspended trade with Russia
Ferragamo paused Russian shipments
Hermes suspended Russian business and closed its stores
Victoria's Secret froze all physical and online retail in Russia
Inditex* temporarily closed 500+ retail sites and halted sales in Russia
Kering** shut its Russian stores
LPP has suspended operations in Russia and closed all its stores
L'Occitane closed its shops and website in Russia
LVMH*** suspended Russian business
Mango suspended sales and shipments to Russia, and also temporarily closed 120 stores, including franchises
Moncler paused its operation in Russia
Nanushka paused its business arrangements in Russia
Signet Jewelers paused Russian business
Swarovski halted Russian sales
TJ Maxx divested its investment in Familia subsidiary
Tiffany & Co will stop buying new diamonds mined in Russia and closed its locations in Russia
Prada suspended its Russian operations
Pandora exited Russia and Belarus indefinitely
Sephora

announced in July that it would sell its Russian subsidiary and permanently exit from the country.
*Inditex owns brands including Zara, Pull&Bear, Massimo Dutti, Bershka, Stradivarius, Oysho, Zara Home, Uterqüe. ** Kering owns 15 luxury goods brands, including Gucci, Balenciaga, Yves Saint Laurent, Alexander McQueen, Bottega Veneta, and more. *** LVMH owns 60 subsidiaries that manage numerous brands, including Christian Dior, Fendi, Givenchy, TAG Heuer, Kenzo, Fenty, and more.
Finance
American Express
Actions Taken: American Express stated that its payment cards would no longer work with Russian merchants and ATMs in a press release on March 6th. American Express Chairman and Chief Executive Officer Stephen J. Squeri also stated that "cards issued locally in Russia by Russian banks will no longer work outside of the country on the American Express global network." Squeri said the company has "halted" its relationships with sanctioned Russian banks and added: "We are also suspending all business operations in Belarus." What's more, Squeri highlighted American Express' assistance to affected employees, its $1 million relief donation, and the company's pledge to match colleague donations.
Goldman Sachs
Actions Taken: Goldman Sachs was the first major Wall Street bank to cease business operations in Russia. On March 10th, the financial firm said it was "winding down its business in Russia in compliance with regulatory and licensing requirements." A company spokesperson said: "We are focused on supporting our clients across the globe in managing or closing out pre-existing obligations in the market and ensuring the well-being of our people."
ING
Actions Taken: ING Group announced it would not take on new business with Russian entities in a March 2nd press release. The Dutch bank's Chief Executive, Steven van Rijswijk, said: "We strongly condemn the invasion of Ukraine, the devastating and heart-breaking impact it has on people's lives, and the threat it poses to international stability and security." ING has offices and hundreds of employees throughout Russia and Ukraine. ING maintains that it is in close contact with those colleagues.
JP Morgan
Actions Taken: JP Morgan is another US investment bank that's leaving the Russian market. A company spokesperson stated that JP Morgan was "actively unwinding Russian business" and "[has] not been pursuing any new business in Russia." JP Morgan's March 10th announcement highlighted that the company's activities are "limited" in Russia. According to the statement, JP Morgan's activities in the region include "helping global clients address and close out pre-existing obligations; managing their Russian-related risk; acting as a custodian to our clients; and taking care of our employees." JP Morgan had previously announced up to $5 million in donations for Ukraine relief organizations in a March 8th address.
London Stock Exchange Group
Actions Taken: On March 3rd, the London Stock Exchange (LSE) Group temporarily barred trading in 27 Russian-linked companies, including Gazprom, Sberbank, and Lukoil. Severstal is another major Russian company that's blocked by the LSE. Russia's richest man, Alexei Mordashov, owns the steel and mining corporation. According to Reuters, LSE blocked any remaining Russian companies on March 4th "in order to maintain orderly markets."
Visa
Actions Taken: Visa Inc. Chairman Al Kelly said: "We are compelled to act following Russia's unprovoked invasion of Ukraine, and the unacceptable events that we have witnessed," in a statement on March 5th. Visa announced it was pausing its services in Russia, including restricting Visa transactions in the nation. Russian-issued Visa cards no longer work outside of Russia, and Visa cards issued elsewhere won't work within Russia. The company added: "This war and the ongoing threat to peace and stability demand we respond in line with our values." Visa is also providing a $2 million grant to UNICEF, and double-matching employees' charitable contributions up to $1 million.
Mastercard
Actions Taken: In a press release on March 5th, Mastercard stated that it would halt support for Russian-issued cards, wherever they are used. Meanwhile, non-Russian Mastercards will no longer work with Russian merchants or ATMs. Mastercard also highlighted its work helping affected employees and a $2 million donation to humanitarian relief organizations. The company added that it wants to assist governments "to ensure the safety and security of the global payments ecosystem" while expressing a desire to one day "restore operations."
Other Financial Companies Taking Action
Allianz is actively reducing its exposure to the Russian market
Adenza paused Russian business
Asian Infrastructure Investment Bank curtailed Russian access to capital markets
Assicurazioni Generali exited the Russian market completely
Bank of China diminished Russian access to capital markets
BlackRock reduced Russian access to capital markets
BNP Paribas curtailed access to capital markets for Russian entities
Citi announced a phased exit from Russia
Commerzbank stopped new business in Russia and is winding down current transactions
Credit Agricole SA suspended activities in Russia
Credit Suisse curtailed Russia's access to capital markets
Deloitte exited the Russian market
Deutsche Bank

announced closing Russian business, and relocating some staff in the country to Berlin

Deutsche Bank is closing Russian business
EY exited its Russian operation
Fitch paused Russian business
FM Global is not licensed to operate in Russia, does not insure Russian-owned companies, and has stopped underwriting reinsurance for the assets in Russia of multinational companies
HSBC reduced Russia's access to capital markets
ICBC cut access to capital markets for Russian entities
Intercontinental Exchange diminished Russian access to capital markets
Moody's suspended Russian operations
Nasdaq curtailed access to capital markets for Russian entities
New Development Bank halted Russia's access to capital markets
Payoneer closed Russian accounts
Prosus cut ties with its Russian online marketplace
PayPal suspended Russian business operations
Rabobank diminished Russian access to capital markets
Remitly Global blocked access for new users in Russia
S&P Global has suspended commercial ties in Russia, but will continue its investigative and reporting operations
Societe Generale curtailed access to capital markets for Russian entities
State Street curbed Russia's access to capital markets
Western Union suspended Russian business
Wise PLC paused its Russian partnership
The World Federation of Exchanges suspended its Russian members and affiliates
Healthcare & Pharmaceuticals
GlaxoSmithKline
Actions Taken: GlaxoSmithKline (GSK) released a statement on March 17th detailing the pharmaceutical company's operational and humanitarian response to events in Ukraine. The announcement began by outlining that GSK's "first priority is the safety, security, and wellbeing of GSK people, wherever they are located." GSK said it's suspending business operations in Russia, including ending clinical trials, marketing campaigns, and reducing any direct Kremlin support "to the fullest extent possible." GSK said it would continue supplying medicine to the Russian people because "everyone has the right to access healthcare." GSK's statement also highlighted the company's extensive humanitarian donations, including a $3.25 million donation to the Red Cross. All profits from GSK's Russian branch will be donated to humanitarian relief efforts.
Merck
Actions Taken: Merck asserted that it "condemn[s] any acts of violence" in a March 1st press release. The German science and technology company added that it would "donate two million euros to the German Red Cross. One million euros of this amount will be contributed by the Merck Family."
Other Healthcare & Pharmaceutical Companies Taking Action
AmerisourceBergen halted new business in Russia and is completing clinical trials and shipments of certain pharmaceutical products 171
Eli Lilly reduced its business operations in Russia, including pausing new investments, clinical trials, and suspending non-essential shipments 172
Cryptocurrencies
Crypto Companies Exclude Russian Rubles
Several cryptocurrency companies, including Kuna Exchange, BTC-Alfa, WhiteBIT, and CEX.IO, have taken significant steps to exclude Russia's national currency, the Ruble, from their platforms. This means registrations, deposits, and withdrawals of the Russian Ruble are no longer accessible to investors.
Coinbase
Actions Taken: On March 6th, Coinbase announced that it had blocked over 25,000 Russian crypto wallet addresses – these are virtual locations where crypto investors store their cryptocurrencies. America's largest crypto exchange moved against Russian actors it believed were "engaging in illicit activity." Coinbase Chief Legal Officer Paul Grewal added that Coinbase was sharing these blocked addresses with U.S. officials "to further support sanctions enforcement." Elsewhere in the statement, Grewal affirmed that the company was "complying with sanctions" and blocking sanctioned actors.
Other Crypto Companies Taking Action
Binance is required to limit services for Russian nationals or natural persons residing in Russia, or legal entities established in Russia
BTC-Alpha has suspended its platform for Russian citizens and residents "until the situation in Ukraine is back to norm"
Logistics
DHL
Actions Taken: German logistics company DHL outlined several measures it was adopting in a short press release on March 9th. A DHL spokesperson said that "inbound services to Russia and Belarus have been suspended," and that the company was "not accepting shipments to those countries until further notice." Domestic operations are also temporarily halted in Russia and Belarus.
FedEx
Actions Taken: After temporarily halting its inbound service in Russia, FedEx has now suspended domestic deliveries in Russia, Belarus, and Ukraine. FedEx Chief Executive Officer Raj Subramaniam said the company was "deeply disturbed" by events in Ukraine in a March 4th company letter; "our thoughts and solidarity are with the people affected by this ongoing violence." In another show of support, the company pledged $1.5 million in humanitarian assistance, including $1 million worth of shipping for humanitarian supplies.
UPS
Actions Taken: The US logistics giant UPS is cutting its delivery service in Russia and Ukraine, according to a company statement released on February 27th. UPS will restrict both inbound and outbound services in Russia, and all deliveries to Russian locations are currently on hold. Similar to FedEx, UPS is offering $1 million of humanitarian funding and in-kind support to NGOs in Ukraine.
Kuehne+Nagel
Actions Taken: Logistics company Kuehne+Nagel said it was suspending Russian shipments in a March 11th statement. This includes shipments to, from, and within the Russian Federation, though excludes shipments of healthcare products, pharmaceuticals, and humanitarian supplies. Kuehne+Nagel also halted operations in Ukraine, and on March 11th, the company pledged 10 million Francs worth of emergency assistance to Ukraine. Kuehne+Nagel employees can donate to the company's "Colleagues for Colleagues" fundraising campaign.
Other Logistics Companies Taking Action
Alstom halted Russian shipments
CMA CGM paused shipments to Russia
DB Shenker suspended Russian shipments
DSV temporarily stopped all shipments to Russia
Geodis halted Russian shipments
Hapag-Lloyd suspended Russian freight
HMM temporarily ceased shipments to Russia
Maersk paused Russian shipments and sold its Russian assets
MSC suspended all shipments to Russia
Ocean Network Express paused bookings to and from Russia
Trafigura froze Russian investments
Manufacturing
Caterpillar
Actions Taken: On March 9th, the construction equipment company Caterpillar announced that it was "deeply saddened" by events in Ukraine and hoped for a "peaceful resolution to the crisis." The statement highlighted Caterpillar's $1 million donation to Ukrainian humanitarian aid and affirmed that the company was "complying with all applicable laws and evolving sanctions." Caterpillar added that its Russian operations "have become increasingly challenging, including supply chain disruptions and sanctions, and we are suspending operations in our Russian manufacturing facilities."
John Deere
Actions Taken: American agricultural manufacturer John Deere outlined its response to Russia's invasion in a press release on March 9th. John Deere said it was "saddened" by events in Ukraine while highlighting that the "safety, welfare, and well-being of [John Deere] employees in the region remains [the company's] top priority." John Deere announced that it had already halted product shipments to Russia two weeks prior, and subsequently moved to suspend shipments to Belarus. The company also said it has "been working directly with a number of organizations, including multiple UN agencies, to mobilize resources to support Ukrainians impacted by the crisis."
General Electric
Actions Taken: On March 8th, General Electric stated that it was suspending its Russian business operations "with the exception of providing essential medical equipment and supporting existing power services to people in the region." The manufacturing giant's Twitter post assured readers that the company would "ensure compliance with sanctions as well as all laws and regulations." GE's statement comes days after the company announced a significant $4.5 million donation to support Ukraine and its neighboring countries.
Other Manufacturing Companies Taking Action
3M halted Russian operations
Alcoa suspended Russian business
Arconic suspended new contracts in Russia
Atlas Copco paused Russian deliveries
Avery Dennison is exiting the Russian market
BASF froze new business in Russia and Belarus
Ball Corporation reduced operations in its manufacturing facilities in Russia and is pursuing the sale of its Russian businesses
GlobalFoundries paused Russian shipments
Hitachi construction suspended Russian shipments
Honeywell suspended Russian sales
Iveco halted deliveries to Russia
JCB suspended its Russian operation
Johnson Controls suspended Russian business
Kingspan exited the Russian market and sold its business there to local management
Komatsu temporarily stopped Russian shipments
Mohawk suspended new investments in Russia
MVRDV suspended its Russian operation
Miele Group has suspended the supply of appliances to Russia
Otis suspended new business in Russia
Rolls Royce has stopped all business in Russia
Sandvik suspended operation in Russia
Siemens froze new business in Russia
Stanley Black and Decker suspended Russian business
SKF has stopped operations in Russia with the intention of divesting the business in a controlled manner that considers employee wellbeing
Stora Enso has stopped all production and sales in Russia and sold its assets to local management
Thermo Fisher temporarily stopped certain operations in Russia
Timken suspended operations in Russia
TSMC stopped Russian shipments
Teknos Group

completely exited Russia in July 2022 by selling its shares in its Russian entity

Danfoss

announced in July 2022 that it

signed an agreement to divest the business in Russia and Belarus to the local management
Sports
Adidas AG
Actions Taken: Adidas paused its agreement with the Russian Football Federation following the country's invasion of Ukraine. The German sportswear brand currently manufactures kits for Russia's national team. And in an update on March 9th, Adidas announced it was temporarily halting its stores and websites in Russia. "As a company, we strongly condemn any form of violence and stand in solidarity with those calling for peace," said an Adidas representative, speaking to Anadolu Agency. Adidas is also donating $1.1 million to refugee and children's relief organizations, as well as clothing to the Global Aid Network.
FIFA
Actions Taken: "FIFA would like to reiterate its condemnation of the use of force by Russia in its invasion of Ukraine," read a statement from football's governing body. FIFA's February 27th announcement listed several measures the organization is taking. These include:
banning Russian flags and anthems from matches
forcing the Russian national team to compete under the name "Football Union of Russia (RFU)" (rather than Russia)
removing all international competition from Russian territory (the RFU must play home games at neutral venues)
In addition to these measures, FIFA has pledged $1 million to humanitarian causes in Ukraine.
Formula One
Actions Taken: On March 3rd, Formula One canceled its September 25th Grand Prix in Sochi, Russia, following the nation's invasion of Ukraine. Russian promoters renewed the nation's F1 contract in June, and Russia looked set to host races at a new venue from 2023, but F1 has now confirmed that this will no longer be the case: "Formula One can confirm it has terminated its contract with the Russian Grand Prix promoter, meaning Russia will not have a race in the future." On March 20th, F1 claimed it had made an "undisclosed generous donation" to UNICEF.
Nike
Actions Taken: Nike representatives said the company was "deeply troubled by the devastating crisis in Ukraine" when speaking to the Wall Street Journal. The multinational clothing brand temporarily halted operations at its Russian stores in response to the invasion. Like many other brands taking the same approach, Nike will continue to pay affected employees' salaries. The Nike Foundation also announced that it would pledge $1 million to relief organizations, including UNICEF and the International Rescue Committee. In June 2022, Nike announced it was leaving Russia entirely.
Puma
Actions Taken: On March 5th, German sportswear manufacturer Puma announced that it had temporarily closed its Russian retail sites. The company operates around 170 stores in the region. Puma's statement follows an earlier decision to halt product shipments to Russia.
Other Sports Organizations Taking Action
International Boxing Federation banned all Russian competition
International Cycling Union prohibited Russian competition
International Ice Hockey Federation disallowed Russian competition
International Skating Union banned Russian competition
International Tennis Federation suspended its Russian partnership
International Weightlifting Federation banned Russian competition
International Chess Federation (FIDE) suspended Russian and Belarusian national teams (individuals can still compete under the FIDE flag)
IOC blocked Russian athletes from competing
JD Sports suspended operations in Russia
NHL paused its partnership in Russia
R&A banned Russians from competitions
Strava has ended its athlete-focused social media services in Russia and Belarus
Team Spirit, an esports organization, has left Russia to relocate in Serbia
UEFA suspended Russian teams from competitions
UnderArmor halted shipments to Russia
Women's Tennis Association paused its Russian partnership
World Athletic Council banned Russian competitors
World Boxing Association stopped Russian athletes from competing
World Boxing Council suspended Russian competitors from title fights
World Boxing Organizations banned Russians in all competitions
World Rowing Federation banned Russian competition
World Rugby Union suspended Russian competition
WWE suspended Russian business operations
Technology
Alphabet
Actions Taken: Alphabet, the company that owns Google, Android, and many other technology brands, has temporarily restricted its business in the Russian market. The company had already blocked Russian state media from accessing ad revenue on its platforms, and, on March 4th, Alphabet announced that it had paused Google ads within Russia altogether. On March 10th, Google stated that it was halting its paid services in Russia, including the Play Store and YouTube Premium. Google and its employees are also pledging $15 million of funding and in-kind support to humanitarian relief efforts in Ukraine, as stated on March 1st.
Amazon
Actions Taken: Amazon, the world's largest e-commerce platform, cut Russian access to Prime Video in a statement on March 8th. The company also stopped all shipments to Russia and Belarus, halted the sale of its video game "New World" in the region, blocked new Russian and Belarusian customers from accessing its AWS cloud computing services, and removed the "Amazon third-party seller" status of Russian and Belarusian merchants. Amazon reiterated its "long-standing policy of not doing business with the Russian government," and highlighted its $5 million donation to humanitarian aid, its donation matching program, and the "tens of thousands of customers around the world" who've made donations via Amazon's homepages.
Adobe
Actions Taken: In a March 4th statement, Head of Adobe Shantanu Narayen condemned Russia's "unprovoked, violent attacks on Ukraine" and continued to list some heavy restrictions on the Russian market. Adobe has stopped all new sales of its products in the region – this means Russian customers can no longer buy new subscriptions to popular services like Adobe Photoshop and Premiere Pro. Current subscriptions will continue working but cannot be renewed once finished. Adobe also said it was "terminating access to Adobe Creative Cloud, Adobe Document Cloud, and Adobe Experience Cloud to Russian government-controlled media outlets." And the company highlighted its "series of grants of over $1 million USD" to humanitarian aid and journalists.
Apple
Actions Taken: Apple expressed its concerns over Russia's invasion and affirmed that the company would "stand with all of the people who are suffering" in a March 1st announcement. "We have paused all product sales in Russia," Apple stated, saying it had also "stopped all exports into our sales channel in the country." Apple's statement outlined several other measures designed to limit services and tackle Russian misinformation: "Apple Pay and other services have been limited. RT News and Sputnik News are no longer available for download from the App Store outside Russia. And we have disabled both traffic and live incidents in Apple Maps in Ukraine as a safety and precautionary measure for Ukrainian citizens." Later reporting suggests that Russian users can longer make purchases in the App Store or iTunes store. There has been no official announcement, and it's unclear if this was due to an action taken by Apple, by Russian banks, or by the Russian government.1
Infosys
On April 1, 2022, Infosys, India's second-largest technology company, announced that it would begin the process of moving operations out of Russia. It stated that it had some 100 employees in the country, and was working to move them out. This announcement was not without controversy. Akshata Murty, wife of the United Kingdom's Chancellor of Exchequer Rishi Sunak, is said to hold £400 million worth of stock in Infosys. This has raised questions about whether the Chancellor could have profited from the business in Russia after the UK government put sanctions in place over the invasion of Ukraine. India, with strong military and economic ties to Russia, has yet to place sanctions on the country. Instead, India continues to allow Russia to invest in its domestic markets, while working to ensure that the parts of its defense system that were made in Russia remain operational.
Meta
Actions Taken: Meta — owner of Facebook, Instagram, WhatsApp, and many other companies — has become embroiled in a legal case with Russian prosecutors over its platforms' revised content policies. Russia's Investigative Committee accused Meta employees of "illegal calls for murder and violence against citizens of the Russian Federation" after the company loosened censorship in Ukraine "to protect rights to speech as an expression of self-defense." Meta is allowing Ukrainian posts such as "death to the Russian invaders." Russia's communications regulator subsequently banned Instagram on March 14th, removing access for over 80 million Russian users. Meta's revised content policy comes after the company blocked Russian state-backed media's access to its platforms in late February. In addition to policing its platforms, Meta is donating $15 million to humanitarian causes in Ukraine.
Microsoft
Actions Taken: Microsoft has taken some of the most extensive measures we've seen in response to Russia's invasion of Ukraine, as outlined in a March 4th press release and a March 23rd update. Brad Smith, the company's President and Vice-Chair, announced that Microsoft "will suspend all new sales of Microsoft products and services in Russia" in response to the nation's "unjustified, unprovoked and unlawful invasion." Microsoft said it was halting other elements of its business operation in Russia "in compliance with governmental sanctions decisions." Smith highlighted Microsoft's role in protecting Ukraine's cybersecurity, and in an update, the company noted further work from its cybersecurity and disaster response teams which are providing assistance to Ukraine. Microsoft has extended free Skype calls in Ukraine, and the company noted that its humanitarian donations and employee donation matching program had generated nearly $50 million in humanitarian aid so far.
NEC Group
Actions Taken: The Japanese multinational IT and electronics company NEC Group expressed its "sympathies to all who are impacted by the tragic situation in Ukraine" in a company statement. NEC Group began by highlighting the work of Netcracker Technology, a US-based subsidiary, in relocating and supporting the company's 700 Ukrainian employees. NEC Group added that it would temporarily halt "all future sales of products and services, as well as future investments in Russia." The company also pledged $500,000 to the UN's World Food Programme (WFP) and added that "each NEC Group company is raising donations from employees around the world."
Sony
Actions Taken: The Japanese technology company Sony has stopped selling its hardware and software in Russia, according to a company statement on March 9th. "Sony Interactive Entertainment (SIE) joins the global community in calling for peace in Ukraine," said a company representative. Sony's popular PlayStation 5 console will no longer be available in Russia. The company has also restricted access to the PlayStation Store and canceled the launch of its Gran Turismo 7 video game. Sony Music also halted its Russian business operations and pledged its support for "global humanitarian relief efforts" in a separate statement. Sony Group said it would donate $2 million to the UN High Commissioner for Refugees and Save the Children.
Antivirus Providers Exit the Russian Market
Several prominent antivirus software providers have been removing their products from the Russian market. Avast halted marketing and sales in Russia and Belarus, offered paid users an extension in Ukraine, and donated more than $800,000 to charitable causes. Norton and ESET have also stopped accepting new orders in Russia and Belarus. In addition, ESET will provide €500,000 to humanitarian organizations and is offering "critical institutions and operators of critical infrastructure in Ukraine" it's premium products for free.
Other Technology Companies Taking Action
1Password halting new account creation, as well as renewal payments, in Russia
ABB

announced in July that it would fully exit Russia

Acer has suspended its business in Russia, and is focusing on the safety of its employees, due to recent developments
Acronis suspended operations in Russia
ADP halted new sales and services in Russia
AECOM temporarily stopped operations in Russia
Akamai suspended business in Russia
Amadeus IT Group suspended partnership with Aeroflot
AMD paused sales of sensitive technology in Russia
Autodesk halted its Russian operation
Avid suspended sales in Russia
Bang&Bonsomer has suspended all new investments in Russia and will not engage in any new business in Russia until further notice, and is working to reduce its legal and financial responsibilities in the country
Bolt temporarily stopped Russian partnership
Bumble paused Russia business
Canon suspended Russian shipments
Cisco halted all operations in Russia
Citrix suspended Russian and Belarusian sales
Clarivate is exiting Russian operations
Cogent Communications cut internet access in Russia
Dell halted operation in Russia
DigiCert is exiting the Russian market
DXC Technology is leaving Russia completely
EarthDaily Analytics suspended Russian business
EPAM has stopped serving Russian customers
Ericsson suspended all shipments to Russia
Esri is curtailing sales to Russia
Figma stopped all new sales in Russia
Fiverr suspended business in Russia
Fortinet suspended operation in Russia
Grammarly suspended Russian business
Google AdSense has paused the monetization of content that exploits, dismisses, or condones the war in Ukraine
Hewlett Packard

initially suspended shipments and sales to Russia, and announced in July that it would fully exit Russia and Belarus

Hostinger stopped accepting payments from Russia and Belarus, including new purchases and renewals
HP paused shipments to Russia
IBM suspended technology sales in Russia
Intel halted sales of sensitive technology in Russia
Juniper Networks temporarily stopped sales in Russia
Konica Minolta Europe has suspended financial transactions in compliance with international sanctions
LetyShops is no longer operating in Russia
Logitech suspended Russian shipments
Lumen cut networks in Russia
MongoDB is acting to comply with international sanctions against Russia, and no longer sells cloud services or software in Russia or Belarus
Monotype, owner of popular fonts including Times New Roman, Arial, and Helvetica, has closed access to its catalog for Russian users
Metso Outotec suspended shipment to Russia
Netscout paused its Russian operation
Nokia halted shipments to Russia
Nvidia suspended all sales in Russia
OneWeb suspended use of Russian airspace
Oracle paused business operations in Russia
Panasonic suspended Russian business
Raytheon halted business operations in Russia
Ricoh suspended Russian shipments
Rockwell Automation paused operations in Russia
Salesforce halted Russian business
Samsung stopped shipping to Russia
Sharp halted Russian shipments
SAP closed sales in Russia
Snap suspended Russian sales
Spotify closed offices and implemented various other restrictions
Tiktok paused Russian business
Toshiba has suspended investing in, and taking orders from, users located in Russia
Trimble suspended Russian sales
Twitter limited its operations in Russia
Uber cut ties with Yandex
Upwork paused Russian business
Jooble halted its services in Russia and Belarus
VMware suspended operation in Russia
Xerox halted shipments to Russia
YouTube limited its services in Russia
Readdle removed its apps from Russia and cut ties with Russian companies
Schneider Electric

announced in July that it would sell its Russian unit to the local management team

Wärtsilä

announced in July that it had fully exited the Russian market
Travel & Hospitality
Airbnb
Actions Taken: Online vacation rental company Airbnb suspended business in Russia and Belarus in a March 3rd statement. Airbnb is also offering up to 100,000 Ukrainian refugees free shelter.
Booking.com
Booking.com's CEO, Glenn Fogel, highlighted the "complexities of doing business in the region" during the "devastating war in Ukraine" in a LinkedIn post on March 4th. Fogle added that Booking.com has withdrawn its travel services in Russia and Belarus.
Expedia
Actions Taken: Expedia Group is another major travel company taking a stance on Russia's military aggression in Ukraine. "We have ceased the sale of travel into and out of Russia," said a company representative, speaking to GeekWire. Expedia's statement added that the company is "saddened by what continues to unfold in Ukraine" and will support "travelers, partners, and our team members with families and friends" who are affected. According to Skift, Expedia's stance extends to its vacation rental platform Vrbo.
Other Travel & Hospitality Companies Taking Action
Hyatt isn't making new investments in Russia, and has suspended development activities in the country
IHG

has ceased all operations in Russia

Norwegian Cruise Lines discontinued Russian itineraries
Oceania Cruises removed Russian stops
Regent Seven Seas Cruises discontinued Russian itineraries
TripAdvisor removed Kremlin-linked propaganda and ads
The Bottom Line
We believe in holding companies accountable for their actions in Russia. Companies that decide to continue operating in the country must explain why. While some suppliers, such as pharmaceuticals and groceries, may have legitimate humanitarian reasons for continuing operations, we should also remember that other companies chose to take action before they knew they would have political or public support. We'll continue to keep this list updated as companies change their position in the Russian market and, hopefully, more continue to leave the country.